ECO-ADVENTURE 3BR CAJON DEL MAIPO
Rustic restored house, gardens, pool.
Just 50 km from Santiago in the quaint village of San Alfonso.

NOTE:  pool and hot tub are closed from April 1- Oct 15
Pamper your body and soul! Surrounded by Andes Mountains. Shared pool and beach on Rio Maipo. Walk to quaint village of San Alfonso, a haven for Eco adventure, rafting on the Class 4 Rio Maipo, hiking, horseback riding to see the condors. Pool, BBQ, walk to restaurants.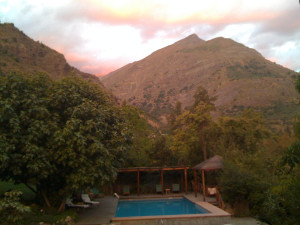 La Casa Azul has three Bedrooms (two queen, and two twin) decorated with high count cotton linens, two full Baths with amazing showers. Gorgeous New Gourmet Kitchen (with Double Door Fridge with Ice Maker, Dish Washer, Professional Stove, Microwave) Wood-Burning Stove, the Pool and The Maipo River.
Unforgettable Relaxation and Adventure! Pamper your body and soul! Gorgeous setting, in harmony with nature, a place of spirituality, and a place where one could nourish the soul at our 3 acre villa in the foothills of the Andes. Breathe the finest mountain air, enjoy the amazing healing energy. Have wonderful massages. Have or prepare food in our Chef's Kitchen. Then swim in our huge pool, hike in the Andes, Raft in the River Maipo and star gaze. And all just 50 kilometers from Santiago, in the quaint hamlet of San Alfonso,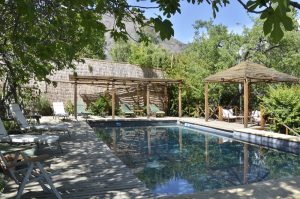 Surrounded by the Andes Mountains, Maipo River, outrageous star gazing, rafting. Hot springs, horseback riding, spa, massage, local culture and restaurants.
If you need more room –  combine with La Casita, which has 2 bedrooms, 1 1/2 baths overlooking the River. Sleeps 6.  As well as La Casita Grande, which has 3 bedrooms, 2 baths.
'A One of a Kind Vacation'
Some comments from our guests:
Villa Tunquen, the beach-front villa , has a sister. Villa Puertazul is actually two beautiful houses, tucked into the mountainous Chilean village of San Alfonso. This is Cajon del Maipo, a Garden of Eden for adventure travelers.
The villas sit on the banks of River Maipo, a Class 4 rafting river, for those whitewater aficionados out there. If you prefer your adrenaline served chilled, you can head to the neighboring Lagunillas Ski Center, or arrange to be dropped by helicopter at some of the more remote ski spots. Nearby are thermal baths, glacial lakes and volcanoes to trek to.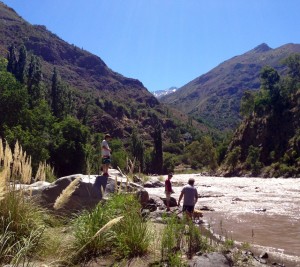 Owner Judy also offers Andes tours on foot or horseback to help their guests learn about the Chilean eco-systems. She says don't miss riding into the Andes to view the condors. "In Puertazul we love to hike, horseback ride and star-gaze,"The skies are amazingly clear and the southern constellations are outrageous, especially from the Hot Tub!
'After all that adventure, you're going to want to relax. Good thing Maipo is also known for its wineries. The villas are close to several of Chile's famous vineyards. Their English Speaking local Manager can help you get familiar with the local wines by arranging tasting tours or private wine parties at the villa.
Like Villa Tunquen, Villa Puertazul was built with sustainability in mind. The stucco is local and made from mud and native plants by local craftspeople, as is most of the furniture. Beautiful stone fireplace and wood burning stove provide lots of romance and 100% cotton linens and towels pamper guests' bodies and souls.
To pamper our stomachs, Villa Puertazul's chef brings in organic bread and quiches made from local cheeses and vegetables. (She's also been known to whip up outrageous cakes and pies or create feasts from local fish and great Chilean BBQ. We enjoyed it all accompanied by a great local guitarist!
Comments: Villa Puertazul! What a great place to stay. A wonderful place to relax and enjoy the pool, hot tub, views, sounds of the river and wonderful gardens.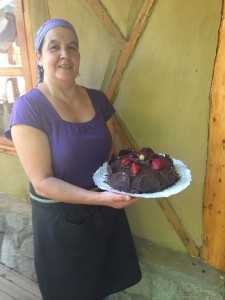 Nancy is a great cook and very accommodating. Lemon pie – sweet! Quiche de Verduras delivered fresh, hot & early for breakfast. Also, her empanadas were scrumptious as well. We made our way to Banos Colinas and soaked in the salt water hot springs. What a treat, luxuriating whilst taking in the splendor of the Andes. Chile – a fabulous place. H&S, BC, Canada
I'm nor sure what refugio means in Chilean Spanish. But Puertazul for us is a Refuge… A retreat into a welcoming luxuriant garden, comfortable home, the Now accustomed sound of rushing water, time to read, dine, reflect, doze…We love the fresh morning air, lazy warm afternoons, evening paseos, flowers, We baked, barbecued, Sauteed, and sauced….And then there is smiling, incomparable NANCY, housekeeper 'extraordinaire'!
[fb_button]
Rate per day $236
guest reviews:
"La casa grande es maravillosa, perfecta para disfrutar en familia o con amigos. La piscina y el jacuzzi han hecho las delicias de grandes y pequeños, así como el jardín con hermosos árboles donde disfrutar de la lectura tumbados en una hamaca. Realmente hemos pasado un fin de semana fantástico. "

YOUR HOUSE IS PERFECT!

We had a wonderful stay, your house is perfect! we enjoyed very much the pool, the fruits trees, the hot tub….

LIKE A PRIVATE MINI RESORT! WE LOVED IT!

We loved our stay! It was so peaceful and beautiful, we didn't go anywhere else! it was like a private mini resort! We loved the pool, the architecture of the houses and we star gazed at night and were thrilled.
Nancy was very nice and helpful and her BBQ was a wonderful first night meal for all of us to enjoy. We hope to come back again soon.. Thank you for making our visit so wonderful!!

WHAT A WONDERFUL PLACE!

Our family had a lovely time at Villa Puertazul. Thank you Nancy and Antonio for cooking wonderful foods for us. The horseback riding, rafting and massages were FABULOUS! Spending great time with family was PRICELESS! What a wonderful place!

What a Beautiful House and Spectacular Gardens!!

What a beautiful house and spectacular gardens, especially all the fruit trees and herbs. We enjoyed resting by the pool during the day, and soaking in the Hot Tub in the evening, gazing at the stars!
Nancy, your empanadas are AMAZING!! Amaranta, thank you for your wealth of information and for organizing all of the exciting tours for us.

Thank you for the perfect setting

my family and I enjoyed the gorgeous roses in the garden, fabulous pool, bubbly hot tub, stocked kitchen, comfortable beds, clean and spacious bathrooms…I could go on and on. We had terrific vacation and enjoyed the village, the people and especially the house and the grounds. The sound of the river lulled us to sleep. We look forward to staying there again!

Yes, Villa Puertazul has been utterly amazing.

We've enjoyed skiing at Las Lagunillas, loved the Observatory and had a fantastic horseback ride in the Andes with Hernan. Nancy and Amaranta has been wonderful. Your home and the setting are idyllic. It is truly a beautiful place.
more reviews…