MAGICAL SETTING OVERLOOKING THE MAIPO RIVER
Romantic La Casita Overlooking The River! 2 BR, 90 mn Santiago

NOTE:  pool and hot tub are closed from April 1- Oct 15
Garden Of Eden In The Foothills Of The Andes. La Casita is situated in a private area of the Villa surrounded by trees on one side and the rushing river on the other. Casual rustic 2 BR, beautiful, with exposed beams, large windows, original hand-crafted furniture and include the best mattresses and linens. Lush Gardens with fresh flowers. Beautiful kitchen, 2BR (one queen, 2 twins), 1 1/2 baths, two decks overlooking the river and lush gardens. Romantic wood burning stove, luxury amenities, including marimekko linens, huge pool, decks and gazebo.
What a fabulous place Villa Puertazul is!

…Most importantly is the special attention from the staff. Wait will you taste Nancy's "miel" (honey) and her breakfast – everything is homemade! (Nancy, Muchas Gracias para todo y especialemente para su patiencia con mi espanol!) A la prochaine! P.S. If you love Pizza, go to Trattoria Calypso – Thank you Amaranta and Ignacio for taking us there and for the great hike in the mountains.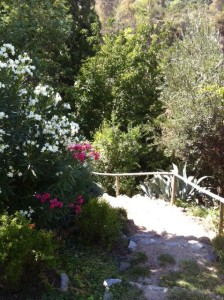 Enjoy bbq quincho (our local chef, Nancy, can prepare amazing typical Chile foods, empandas, cakes and breads or a typical Chilean BBQ). Walk around the Villa and pick fruits from our luscious gardens, picnic or relax in a hammock at our private beach. Pamper your body and soul with a fabulous massage with our massage therapists or a healing session with Luz Clara, Chilean Medicine Woman. Reduce stress, breathe fresh mountain air, enjoy amazing healing energy. Eat natural organic food. Swim in our huge pool, star gaze in the hot tub, enjoy lush garden walking paths. And all just 50 kilometers from Santiago, in the quaint hamlet of San Alfonso in the amazingly gorgeous El Cajon del Maipo.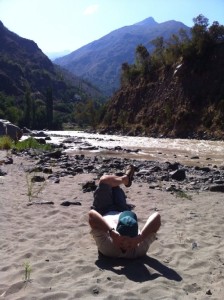 Walk down the path to the Maipo river, where you can picnic and relax in a hammock surrounded by snow capped Andes mountains. Our paradise is great for family reunions, weddings, honeymoons, special events. Try our new wine cellar / game room for private wine and food tastings! We can arrange van/driver for private tours of the Valle de Maipo wineries. Spa services: massage, chilean shamanic healings and journeys, natural and organic chef services Experience life in a typical chilean village surrounded by a wonderland of adventure. We can arrange spectacular horseback riding, hiking to see the condors, whitewater rafting, fishing, kayaking, trekking, sky viewing, natural hot springs, world class restaurants and new observatory. Van tours of famous Maipo valley wineries! Have a Bigger Group? Take both casas and sleep 10! – Casa Grande [fb_button]
guest reviews:

Wonderful Sanctuary, Secluded, Lush River Retreat

This was our second stay in this charming, La Casita. The convenience to Santiago, immediate access to the Andes, delightful swimming pool and spa make this an ideal sanctuary. … and it is lovely, filled with upscale designer decor, and offers all the amenities of home… Our ventures to the outside world included a unique dinner and incredible new-moon tour of the sky at the nearby observatory (don't miss it!). We drove an hour to the National Park and took the hiking trail for Monumento Natural El Morado. The views of the glacier-covered mountains and meadows were well worth the trek. Nancy made us a delicious pastel de choclo, homemade whole wheat bread, and empanadas. We enjoyed the fabulous honey from her own hives. Relaxing in the spa under the stars was a special treat!

What a wonderful home!

Thank you for the perfect setting – my family and I enjoyed the gorgeous roses in the garden, fabulous pool, bubbly hot tub, stocked kitchen, comfortable beds, clean and spacious bathrooms…I could go on and on. We had terrific vacation and enjoyed the village, the people and especially the house and the grounds. The sound of the river lulled us to sleep. We look forward to staying there again!

What a wonderful home!

I just wanted to let you know how much we loved your house. It was lovely having Nancy… she also made an amazing welcome meal for us, so we felt so taken care of… We admired the special counter tops in the kitchen and the color of the cabinets, the beds were super comfortable, and the kids (and we) really enjoyed relaxing next to the pool and the hot tub in the beautiful gardens.

TO LET YOU KNOW HOW MUCH WE LOVED YOUR HOUSE!

We loved our stay! We are visiting from Palo Alto, Ca. and brought our extended Chilean family with us to stay here. It was so peaceful and beautiful, we didn't go anywhere else! it was like a private mini resort! We loved the pool, the architecture of the houses and we star gazed at night and were thrilled. Nancy was very nice and helpful and her BBQ was a wonderful first night meal for all of us to enjoy. ….