VILLA PAZ – OCEANFRONT VILLA
Solar Powered Eco-Luxury, 5 bedroom, 4.5 bath, Hot Tub,
Yoga and Artist Studios, 90 minutes from Santiago
.
The perfect place for nature lovers.
Located in Tunquen beach 1 hour 30 minutes from Santiago this beautiful house is in first line to Pacific Ocean surrounded by native wild life. Safe and isolated in a gate community, with breathtaking views is the ideal environment to enjoy and be with yourself. Great for families or retirement events. One  Independent House that can easily fit 8 to 10 people is a two story family home with ocean view in all four bedrooms.  Large master bedroom, with bath, private living room and balcony on second story. Plus and extra room for de maid with bathroom close to the laundry. All windows are dual panel. Fireplace in living room. Separate dining room next to the kitchen. Separate laundry room, spacious kitchen with island. Wood floor in all house.
In the patio area you can find one yoga studio with a special under floor of rose quarz and tourmaline and terrace for give you the best energy, and one studio that be can used to paint the stunning sunset that you can appreciate every day in front of the house.
Gougeous spacious house filled with light and beautiful gardens. This furnished house is fully equipped and has everything large group might need to feel at home. Nice and small pool overlooking ocean. Outdoor BBQ area as well as ample outdoor entertaining area for up to 20 people.  Many birds species live in tunquen: woodpeckers, california quails, morning doves, barn owls, burrowing owls, night crowned herons, giant hummingbirds, etc., some are easy to see, some are nocturnal.
We are 5 minutes walking distance to an amazing beach with a wetland. At our villa you can have fun in the pool or make barbecue and enjoy the ocean view. You can make different activities inside the house or go out and have a nice walk. Also you can visit in car the nearby beaches like: Algarrobo if you need to go to the supermarket, or have a nice lunch in Quintay or visit Pablo Neruda´s house  in Isla Negra or go to Valparaiso.
We will be present or reachable if you need anything and to guide you in order to make your visit pleasant.
Rent per month include water, manteinance garden, electricity from solar panels, alarm in the house and perimetral with Verisure vigilance, and the security guards in the condominium 24 hours. Not include the gas for the electricity generador.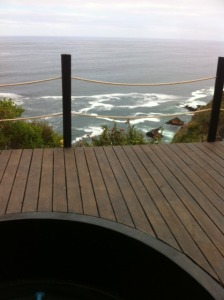 This is a no smoking property
No large parties in the house.
Four nights minimum stay
Minimum age 25
[fb_button]
Available from March 1st,  2017
Per day $200.000 CLP High Season
$150 CLP Low Season
Rent contract from march to december $800 CLP monthly
Rent all year $1,100 CLP monthly

+$20 per day cleaning
Four nights minimum stay